Local Tech Support for Small Business
Allamar Technologies provides technical support services for small to mid size companies in Eugene/Springfield, Oregon. We specialize in helping businesses that do not require a full time IT staff by providing immediate support for computer and/or network emergencies, and by offering scheduled maintenance, backup, administration, development and planning for their companies' electronic future. We focus on computer/network hardware and software troubleshooting, specializing in: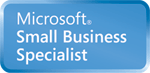 Microsoft Windows, Mac OSX, and Linux workstation suupport. 
Microsoft Windows, Mac and Linux server support. 
Exchange and other email servers. 
SQL and other database servers. 
Microsoft Office and other productivity software including CAD, Accounting and design applications. 
Network hardware, troubleshooting and optimization. 
Smart Phones and Mobile devices support.
We troubleshoot and support wired and wireless network hardware and printers, attend to backup and disaster recovery, migrate/replace servers, and provide consultation services. We are uniquely qualified to support the Microsoft Small Business Server line as a certified Microsoft Small Business Specialist. We also offer various support services and new hardware featuring Linux and Macintosh Operating Systems. For more information contact us or call (541) 345-6015.